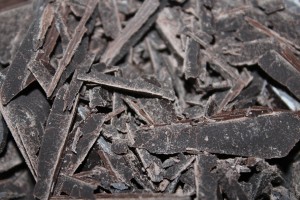 I was inspired to start making chocolates at home by a visit to the London shop of Paul A Young the Artisan Chocolatier. My first attempt at making my own chocolates at home was to attempt to make peppermint fondants. These were made in a flexible mould with hollow cases from Green & Blacks 70% Dark Organic Chocolate.
I tempered the chocolate by using the method described by Paul A Young and a recipe by Charlotte Oates at Charlottes Lively Kitchen for the peppermint fondant filling.
Charlottes fondant filling was made with marshmallows and proved a very hot process as you had to kneed by hand the heated marshmallows. The result was a success but the amount of peppermint essence will have to be reduced next time as it was a little too strong!