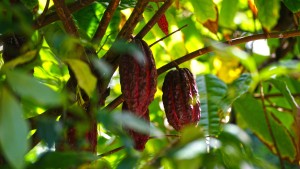 So what is the the Cacao belt? Its the narrow band 20 degrees either side of the equator. Cacao (Theobroma Cacao) plants thrive in high humidity and in areas of high rainfall (40 to 100 inches per year).
The plants do not survive in regions of drought or cold and cannot tolerate too much ultra violet light found at higher altitudes.
Most of the worlds Cacao is grown in Cote d'Ivorie with about one-third of the worlds harvest. Other top producers include Ghana and Indonesia.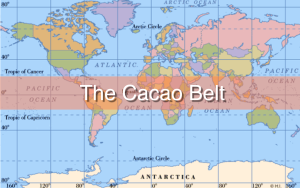 Some of the worlds best chocolates beans come from: Venezuela, Brazil, the Ivory Coast, Madagascar, Central America and the Caribbean.
They all have their own distinctive taste and aroma, very much like the way Wine varies in each region.